Reverse Osmosis (RO) drinking water systems provide high-quality water for worry-free drinking or cooking. This state-of-the-art filter will improve the quality of water from wells or municipal water supplies.
System Features:
New premium post-filter reduces PFOA/PFOS, DEET, Ibuprofen, MTBE, VOC's

Removal of 92 total contaminants

Removes 99.1% Lead
BPA-Free System
50 gallons per day production rate, industry rated, high recovery 42% membrane (actual production rate will vary depending on water usage and conditions).

Nearly 1:1 process water ratio – more efficient, uses 50% less water than the 375 series

Membrane and post-filter completely retrofittable/interchangeable with the 375 series
Additional filter selections are available including alkaline.
The filters are enclosed for cleanliness and ease of replacement.
Changing filters does not require turning off the water, a simple 1/4 turn of the filter shuts off the water and the filter is released at the same time.
System Options:
Unique and elegant chrome or brushed nickel faucet styles.
Optional electronic faucet indicates when filters and membrane need to be replaced.
System is expandable if additional filters need to be added.
Additional filter selections are available, including higher capacity sediment, or a Volatile Organic Compound (VOC) rated filter.
The membrane can be upgraded to a 75 gallon per day membrane.
Adaptor kits are available to easily add a permeate pump system, which provides improved flow rates at the faucet.
For a list of the impurities reduced by the ERO 385 Series reverse osmosis systems, please contact your EcoWater Pro.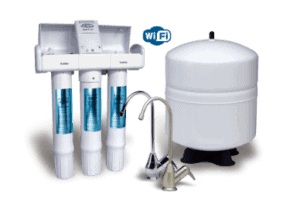 Additional Systems Available 
Available by Order from EcoWater